---
---
Toronto Comicon
March 5, 2014

It begins. CONVENTION SEASON.
Aaron Lenk (of Dave's Wurld fame) and I will be at table A152 doodling and meeting people and we want to meet you! Come say hi and I'll draw you a turtle!
---
Hello NSA (A Valentine!)
February 12, 2014
It's been over a year--way too long--since I recorded any new music. So here's "Hello NSA," a love song for the National Security Agency written out of watchlist words AND IT'S EXACTLY WHAT YOU WANTED FOR VALENTINE'S DAY OKAY?
The creative team who put this video together was UNBELIEVABLE. Daniel Voshart shot and directed the video, wandering with me through Toronto's many police camera locations. Rich Williamson edited the video--a ridiculous pile of miscellaneous footage of my awkwardly playing guitar--into a hilarious, cohesive story. And Adam Brown animated the NSA logo, credits, and NSA watch-word analysis to bring the whole story to life.
If you ever need a team of absurdly talented folks to bring one of your projects to life, THESE ARE THE GUYS YOU WANT.
---
My dog did my interview with Archenemy magazine
February 10, 2014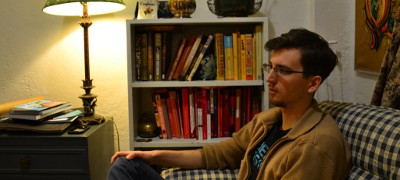 Earlier this month I got to do this really fun interview with Katie Yantzi from Archenemy magazine, and it turns out I talked about my dog so much that she got the headline image and ended up in the first paragraph of the profile they wrote on me!
But also I talked about hand-making comics, half-cats, and half-baked plans for the future!
>Read the interview
---
I am launching a book tonight!
November 27, 2013
Tonight, Half-Cat: A Partial History, a book that I collaborated on, will be launching in Toronto at 8pm after receiving $14,349 of Kickstarter support. Thank you so, so much for your ridiculous belief in this improbable project.
It would be amazing if you could come out and celebrate the unlikely success of Half-Cat with us at tonight at 8pm at 230 College St!
>RSVP on the Facebook event page
---